Buick


Buick was formed in 1899 as the Buick Auto-Vim and Power Company, and is credited at this current time as the oldest Active Car Maker as Oldsmobile was discontinued in 2004. David Dunbar Buick actually incorporated his company in 1903 as the Buick Motor Company in Detroit Michigan. Walter Marr had designed the first of the Buick Automobiles but as David Buick wanted to keep manufacturing large stationery engines etc. Walter Marr left and started his own company and built the Marr car but he had a fire which destroyed his efforts and it wasn't long until he was back with Buick.

1904 brought the production of 37 Buick automobiles which increased to 750 in 1905, almost doubling to 1,400 in 1906 and up to 8,800 by 1908, which made Buick Number 1 in production surpassing Ford and Oldsmobile.

After incorporation in 1903 the company was taken over by James H. Whitting owner of Flint Wagon Works, in Flint Michigan. In 1904 he brought in William Durant to manage his newly owned company. He would spend the next three years making Buick the biggest selling automobile in the USA. He teamed up with R.S. McLaughlin in Canada in 1907 with a 15 year contract to supply motors, and in 1908 founded General Motors. David Buick was kept as an employee for several years. He sold his stock for a small sum when he left and died 25 years later.



Below are some of the Buick Running Boards we have done. No matter the Running Board, we can do it for you. Please contact us at kmarneson@live.com for more information on what we can do for you and feel free to browse around our webste to see the work we have done. We also do Floor Mats and various other Rubber Products.



---
1936 Buick Before




1936 Buick After


---
1935 Buick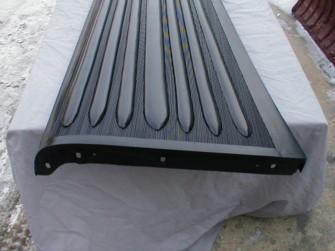 ---
1935 Buick


---
Buick Floor Mat


---


To see a list of the projects to be worked on , in progress and have been completed in the last year or so go to the: Projects Catalogue.





For Your Enjoyment




by Mark Allan





by Mark Allan





Be sure to e-mail us at: kmarneson@live.com