Studebaker


The History of the Studebaker actually started way back in 1852 when two brothers Henry and Clement Studebaker started the H & C Blacksmiths Shop in South Bend Indiana at the corner of Michigan and Jefferson Streets. It would later be known as the Studebaker Brothers Manufacturing Company and younger brothers Peter, John Mohler and Jacob would join the firm and they would become the worlds largest manufactures of wagons and buggies.

In 1902, far ahead of their time, Studebaker entered the automobile craze with an electric car. Thomas Edison was a big fan as he produced the 2nd car that rolled out the door. In 1904 they entered the gas powered manufacturing race. Studebaker offered a fullind of Horse Drawn and self propelled vehicles up until 1920. The Studebaker automobiles were produced in Detroit. 1911 saw the change of the name to Studebaker Corporation. The horse drawn aspect ended in 1920 and most of the auto production had been moved to South Bend. They had made good profits in the 1920's but in 1933, during the depression, Studebaker filed for receivership.

Paul Hoffman and Harold Vance were appointed as receivers and were able to bring Studebaker back from insolvency by 1935. There were no helping hands from the Government back then either and Studebaker went on to be a major contender in automotive production up until 1063. But wait, they were still able to continue production in Ontario Canada until March 17th, 1966.

Prior to 1911 Studebaker worked in partnership with Garford Company from Elyria, Ohio and from 1909 with the E-M-F Company. The first gasoline automobiles solely producded by Studebaker began production in August of 1912.

There are a lot of other great stories of Studebaker, like i's asspciation with Packard, on the internet but in the meantime browse our site to see a lot of great runningboards.


Please contact us at kmarneson@live.com for more information on what we can do for you and feel free to browse around our webste to see the work we have done.


---

1937 Studebaker

Before



After

---

1940 Studebaker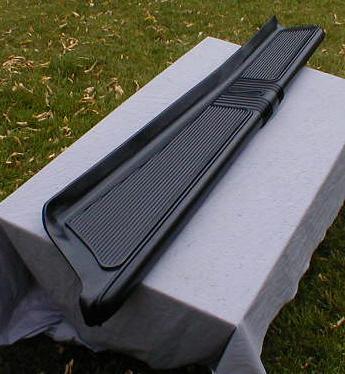 ---


To see a list of the projects to be worked on , in progress and have been completed in the last year or so go to the: Projects Catalogue.





For Your Enjoyment




by Mark Allan





by Mark Allan





Be sure to e-mail us at: kmarneson@live.com